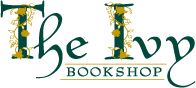 Friday, MARCH 1, 2013
The Ivy Bookshop is a Baltimore institution; "Baltimore's Best Bookstore" (according to Baltimore Magazine), and one of the country's great, enduring, independents. I'm delighted that the Ivy's new owners, Ed and Ann Berlin - longtime customers of Chartwell Booksellers - have invited me to visit the Ivy and speak about Churchill Style.
FRIDAY evening, MARCH 1, from 7:00-8:30 pm.
Join us if you're in the neighborhood.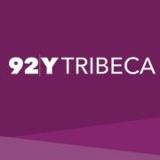 Sunday, JANUARY 27, 2013
Please join me at 92YTribeca (the 92nd Street Y's downtown outpost in Tribeca) for EAT, DRINK and THINK...LIKE CHURCHILL, a celebration of Winston Churchill's favorite foods and beverages served up with a pair of speakers - yours truly, discoursing on the dining and drinking aspects of Churchill Style, which are plentiful - and the esteemed biographer Barbara Leaming, author of the recent Churchill Defiant, among many others.
Janurary 27, 2013
2:00 PM
@ 92YTribeca
200 Hudson Street (212.601.1000)
Admission: $58 per person
For a $10 courtesy discount, just enter the promotional code WINSTON when ordering your tickets.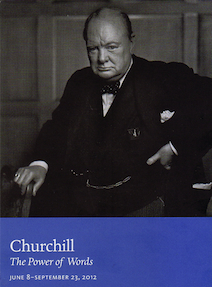 Wednesday, JUNE 27, 2012
I will be speaking at the The Morgan Library this coming Wednesday, June 27 on the subject of CHURCHILL STYLE, in conjunction with the Morgan's current exhibition CHURCHILL: THE POWER OF WORDS. Unfortunately, it is a private affair, reserved entirely for Morgan benefactors and board members.
I did want to make mention of it here, nevertheless.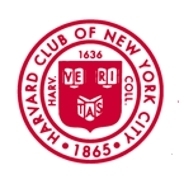 Wednesday, JUNE 13, 2012
I am delighted to share an invitation to my upcoming lecture at The Harvard Club of New York City, Wednesday evening, June 13, at 7:30 pm. Though this is an exclusive (free) event for Harvard Club members only, a limited number of seats have been set aside for friends.
To reserve your place, please telephone 212-308-0643.
The Harvard Club is at 33 West 44th Street, between Fifth and Sixth Avenues.

Saturday, JUNE 2, 2012
Spend a Saturday with the life and lyrics of Andy Razaf at the National Jazz Museum in Harlem, 104 E. 126th Street • Suite 4D. Starting at Noon and running until 4 PM, the afternoon will feature my extended ruminations on BLACK AND BLUE: The Life and Lyrics of Andy Razaf, and live music by the impeccable jazz vocalist Catherine Russell, accompanied by pianist Chuck Folds. Admission is free.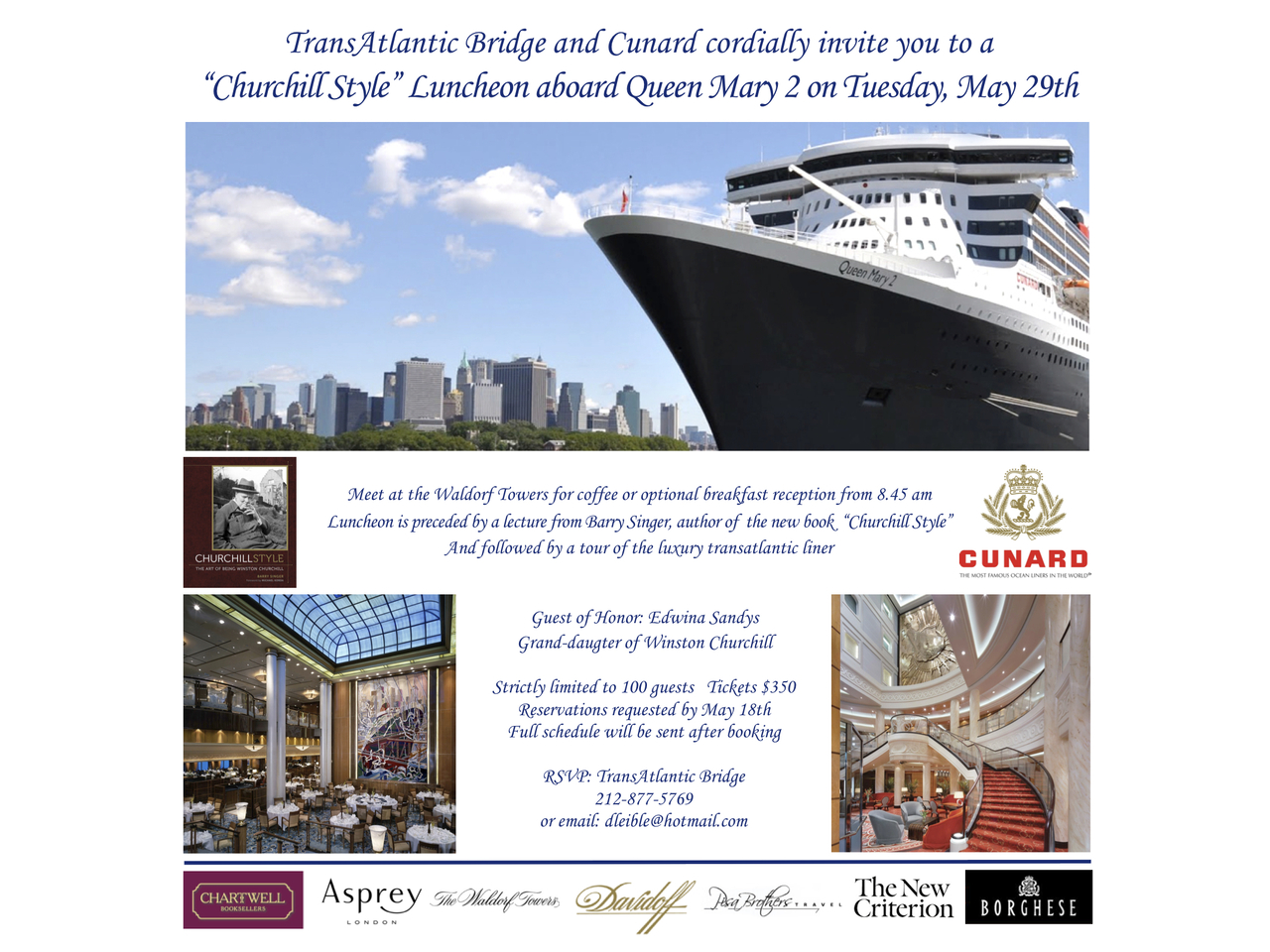 Tuesday, MAY 29, 2012
You are invited for luncheon "Churchill Style" onboard the Queen Mary 2, courtesy of TransAtlantic Bridge and Cunard. The date is Tuesday May 29th. Luncheon will be preceded by a lecture from Barry Singer, author of the new book CHURCHILL STYLE, and will be followed by a tour of the ship. The afternoon's Guest of Honor is Edwina Sandys, Granddaugter of Winston Churchill.
Tickets are $350 per person and strictly limited to 100 guests, but as a user of this website, you may attend at the discounted rate of $250 per person. To comply with Cunard's strict security arrangements, please confirm your reservation by Monday May 21st.
RSVP to TransAtlantic Bridge directly at:
212-877-5769 or dleible@hotmail.com.
Guests will meet at the Waldorf Towers for a breakfast reception from 8:45 AM, with buses providing direct transport to the Queen Mary 2 at its Brooklyn pier.